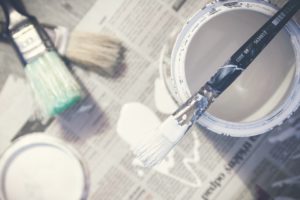 Do-it-yourself (DIY) home improvements can save you money and give you more control over the outcome. However, the process can be taxing on both your wallet and mindset. At the beginning of your DIY home project, you were probably eager and excited. Over time, enthusiasm can wane, making it harder and harder to keep going. You may find that it's taking you too long to complete simple tasks and that you're not putting the same amount of effort into your project as you did at the start. Once your motivation is gone, it's easy to lose sight of the end goal.
Like many homeowners, there were many things I wanted to get accomplished to improve my home. However, the thought of finishing my list of to-dos had me a little overwhelmed. When I lacked the motivation to continue, the things that helped push me along were the small accomplishments. Try to make at least one improvement to your home each week, even if it's small. These little improvements can help create a feeling of accomplishment, which can give you the momentum to finish the project. For example, if you don't have the time or energy to paint the walls, just work on the baseboards.
Even if your home is in total chaos now, think about the future. Envision what it will look like once you've finished. This type of positive thinking can help you better focus at the task at hand and discourage you from putting off the work. If possible, ask a friend or significant other to help you finish the project. These quotes from home renovation heroes and inspirational leaders can also help you to power through any DIY home project!
1. "Don't quit, and don't give up. The reward is just around the corner." – Joanna Gaines, Fixer Upper
2. "A home is more than just where you live; it reflects who you are." – Ty Pennington, Trading Spaces
3. "The difference between the impossible and the possible lies in a person's determination." – Tommy Lasorda
4. "The first step in bringing an idea to life is putting pen to paper." – Drew Scott, Property Brothers
5. "Many of life's failures are people who did not realize how close they were to success when they gave up." – Thomas A. Edison
6. "Home is where you feel at home and are treated well." – Dalai Lama
7. "Your home should tell the story of who you are, and be a collection of what you love brought together under one roof." – Nate Berkus
8. "It always seems impossible until it's done." – Nelson Mandela
9. "Design can have such a positive impact on the way people live and on their relationships and moods." – Genevieve Gorder, Dear Genevieve
10. "Work hard, be honest, be frugal." – Angie Hicks, Angi.com
11. "Creativity is inventing, experimenting, growing, taking risks, breaking rules, making mistakes, and having fun." – Mary Lou Cook
12. "Where we love is home – home that our feet may leave, but not our hearts." – Oliver Wendell Holmes