Replacement Canvas
Save up to 40%-60% off retail pricing on replacement canvas for patio & market umbrellas!
We offer the best values available in Replacement Canvas for Patio and Market Umbrellas – excellent quality at very low wholesale prices – with no minimum purchase. Please measure your umbrella very carefully to assure that your measurements are correct. If you purchased your umbrella from us, we will know which size replacement canvas is correct for you. If you did not purchase your umbrella from us, we will most likely have replacement canvas that fits your umbrella. If you are not sure how to measure, please call us at 530-674-8880. We will be glad to help.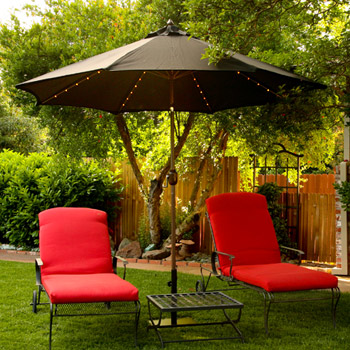 Residential and Commercial Use
Having an outdoor area for customer dining can be a significant advantage over other restaurants in your area. Especially in the Northeast, where the summer season passes all too quickly, offering customers a way to maximize their summer will put your bistro or restaurant at the top of the list of possible choices.
But on hot summer afternoons, lunch guests may prefer your air-conditioned dining room.
For your business, the addition of outdoor market umbrellas makes perfect sense. Market umbrellas can add just the right touch of ambiance to increase your number of dinner customers. And at high noon, outdoor market umbrellas can provide your customers with ample shade for a comfortable break over lunch.
Your logo can be added to your outdoor market umbrella canvas, too. Choose between polyester canvas that is 3M Scotchgard treated, and Sunbrella canvas for your custom logo imprint. Check our website for more information on minimum quantities and then contact us for a price quote.
You might find outdoor umbrella replacement canvas elsewhere, but you'll probably pay a lot more. For umbrella frames, canopies, and replacement umbrella canvas, MJJSales is your best bet for high quality at affordable prices.
Polyester Replacement Canvas for Market Umbrella Treated with 3M Scotchgard
Is your Market Umbrella frame in good shape? Market Umbrella replacement canvas might be the answer. Please check out the 8 oz. Polyester replacement canvas available below. The life expectancy for Polyester canvas on Market umbrellas will vary greatly depending on how you use them, your climate, etc… The average life is probably around 3-5 years. Please note many market umbrella manufacturers and chain stores selling around the same price, sell a 6 oz polyester.
Polyester replacement canvas for your market umbrella is available in 8oz. polyester fabric. Life expectancy for market umbrella polyester replacement canvas varies greatly depending on use but on average will last around 3-5 years.
**Many factors can attribute to the colors you're seeing on your computer screen. We have tried to show a decent representation of the colors available. White option is not shown. It is a true white. Certain colors are only available on certain styles.
Your outdoor market umbrella has added a unique, aesthetic element to your outdoor entertaining and your own quiet down time. Most market umbrella frames will give you enjoyment for a number of years. The average polyester canvas canopy, however, doesn't last nearly as depending on the degree of use and care, and the typical weather in your locale. If your patio or market umbrella frame is still in good condition with several good years left, but your canvas won't see another season, consider a canvas replacement.
Where most manufacturers and suppliers offer a 6oz. polyester market umbrella replacement fabric, at MJJSales, we offer market umbrella replacement canvas in a slightly heavier 8oz. polyester. We treat our polyester replacement canvas with 3M Scotchgard, for added durability and ease in cleaning.
Did you purchase your original outdoor market umbrella with MJJ Sales? We can guarantee your replacement umbrella canvas will be a perfect fit. If you purchased your outdoor market umbrella elsewhere, double-check the size of your umbrella prior to ordering your umbrella replacement canvas with MJJSales.
Consider the benefits and resiliency of Sunbrella fabric for your market umbrella replacement canvas.
Sunbrella umbrella replacement fabric is available for most patio and market umbrella sizes and canopy shapes, and in more than 100 colors, with the most popular being Forest Green, Sunflower Yellow, Natural, Jockey Red, Black, and Burgundy.
Sunbrella fabric is known for filtering up as much as 98 percent of the sun's harmful and damaging UV rays. So, even in peak hours of intense sunlight, you can rest assured that your Sunbrella patio umbrella replacement fabric is giving you and your guests so much more than a comfortable seat in the shade. In fact, The Skin Cancer Foundation recommends Sunbrella as patio umbrella replacement fabric.
PLEASE CHECK SIZES CAREFULLY BEFORE ORDERING! The sizes listed  are for a single rib, NOT the diameter of the umbrella.