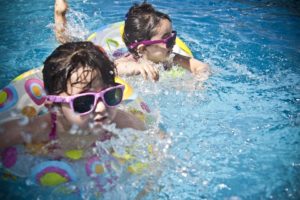 Summer's here, which means it's time for warmer weather and fun in the pool. However, swimming does have risks: Did you know that around 5,000 children under the age of 14 are hospitalized each year due to drowning-related incidents? To ensure that your family remains safe in and around the pool, be sure to take some important safety precautions.
Never Leave Children Unattended
Swimming is one of the most popular summertime activities for children, but to keep your kids safe while they're in or near the pool, it's important that they're supervised at all times. Young children are the most at risk and can drown in less than two inches of water. If your child does not know how to swim, consider taking them to swimming lessons. But even kids who already know how to swim can find themselves in danger. While older children may be fine with a parent keeping an eye on them from their lounge chair, infants and toddlers must always have an adult swimmer within reach while in the pool.
Maintain Proper Chemical Levels
The water in your swimming pool can contain a variety of germs, including viruses and harmful bacteria. Some of these germs can cause health problems such as nose, ear, and throat infections. To keep your pool healthy and hygienic, it's important to maintain proper chemical levels. Chlorine is most often used to disinfect the water, but you'll also want to check the pool's pH level, calcium hardness, and total alkalinity. Test your pool two to three times a week during the summer to make sure the water quality is safe for swimming.
Secure the Pool With Appropriate Barriers
If you have children, it's best to keep your pool off limits when an adult is not available to supervise them. This may mean putting up barriers around the pool. Fences, gates, netting, and similar products can be used to create a barrier to keep kids out. Opt for a barrier that is at least 4 feet high and preferably has a self-closing gate. You may also want to consider installing a pool alarm.
Invest in Proper Swim Gear
There's a wide range of swimming accessories on the market, ranging from water wings to pool noodles. While this type of swim gear can be fun for experienced swimmers, it can give inexperienced swimmers false confidence. When shopping for flotation devices, look for a life jacket or swim vest designed for your child's size and ability level. Remember that flotation devices do not remove the need for adult supervision.
Establish Rules for the Pool
It's important to establish firm rules for the pool if you have young children. First, explain to your child that it is not OK to run around the pool. The area surrounding the pool can be slippery, leading to dangerous slips and falls. You'll also want to teach your children to stay away from drains. Suction from a pool drain can be powerful enough to trap even an adult.