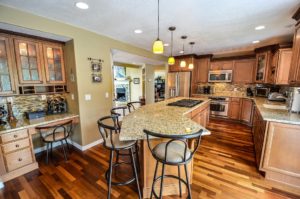 If you've recently made the decision to remodel your home, you probably know how complex and expensive these projects can be. In fact, the average homeowner spent $15,000 on renovations in 2017. As remodeling is such a large investment, it's important to consider all aspects of the planning and design process before taking the leap. Before starting this new endeavor, ask yourself some pivotal questions.
1. How Long Are You Planning to Live in Your House?
Remodeling a home that you don't plan to live in for years to come may not be a wise investment. If you plan on moving in the near future, you may want to make smaller changes that are not personalized to your tastes. For example, you probably don't want to paint your kitchen your favorite shade of orange if you plan on selling; instead, stick with neutral shades. If you do plan on staying put, you'll want to consider both your current and future needs. As your family grows, you'll want your home to accommodate you.
2. Is Renovating More Economical Than Moving?
While renovating is a great way to personalize your home to your unique wants and needs, it is not always the best option in terms of cost and time. In some instances, it is wiser to move to a home that already has most of the features you're looking for. When making your decision, consider your personal attachment to the home, your budget, and the overall layout of the property. You'll also want to consider how long the renovations will take. You must be willing to live in chaos during the remodel.
3. Does the Design Fit the Home's Architectural Style?
Just because you see a fabulous kitchen design in a magazine doesn't necessarily mean that it will work in your home. Each house has a different layout and architectural style. Take the time to really analyze the property's construction and character to find a design that best fits the style of the house.
4. Is the Design Functional?
When remodeling a home, most homeowners focus on aesthetics instead of what's really important. Creating a beautiful space that's also functional should be your main goal during renovations. This means adding accessible storage, plenty of electrical outlets, adequate closet space, and a mixture of general, task, and accent lighting.
5. What Are You Prepared to Spend on Renovations?
Setting a budget before you begin renovations is crucial to prevent financial stress later on. You'll want to start by estimating the costs of the upgrades. On average, you can expect to spend about $100 to $200 or more per square foot. Take the time to get quotes from several contractors before narrowing down your choice. If you're working with a contractor, ask for a written estimate to determine if budget cuts must be made.
6. Will This Remodel Increase the Value of Your Home?
Not all types of remodeling projects will increase the value of your home. If you ever plan to sell your home, consider upgrades that will actually increase its value. In the kitchen, granite countertops and stainless steel appliances are good investments, as their neutral look ensures that they'll never go out of style. In the bathroom, consider updating the vanity and flooring. Switch out your old shower unit with a floating glass or walk-in shower.