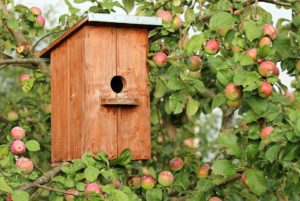 You don't need a full workshop to enjoy the art of woodworking. Although it can be intimidating to start a woodworking project, most beginners find the process and end result to be rewarding. Check out some of these simple projects I found that can help people get started with this hobby and spruce up their outdoor space, too.
A birdhouse is a simple and inexpensive woodworking project that can be customized with fun paint colors. Once finished, a wooden birdhouse can be hung outdoors to attract feathered friends in your neighborhood. This project requires just a few basic supplies, including wood, screws, wood glue, and galvanized piping. You will need a saw to cut the pieces of wood to size, or you can have the wood cut for you at your local home improvement store.
A trellis adds style and character to your garden, and it can also increase privacy and security on your property. Although you can buy a trellis at most home improvement stores, you can easily build your own with some lumber and screws. While there are lots of different types of trellis designs, the most basic consists of a framework of squares. By attaching horizontal boards to vertical boards, you can create a lattice that supports climbing plants or vines.
Store and organize all of your gardening tools and supplies in a convenient garden closet or shed. While a garden closet is more complex to build than a birdhouse, you can make it simpler by building it in pieces. The first part is the walls, which create a strong framework. The roof is constructed using a 2×4 frame finished with soffit, sheathing, trim, and shingles. Finally, you can assemble the doors and hang them with hinges.
This project doubles as an address plaque and a planter. To make it, you just need a few basic supplies, including a cedar fence picket, cedar board, screws, metal address numbers, and a plant of your choice. The planter is just a basic box put together using pocket holes. The plaque can then be painted or stained. Once it dries, the metal address numbers screw onto the front of the sign.
Welcome guests to your home with a sleek wood slat doormat. For this project, cedar is used due to its high resistance to rot, which is essential if you're going to use wood to wipe your feet. What makes this project simple is that all ten pieces of cedar board are cut to the same size. Once they're cut, 36-inch rods are inserted through the boards to keep them firmly in place. Your wood slat doormat can then be stained the color of your choice.
Serve ice cold beverages or tasty snacks to your guests with the help of an inexpensive serving tray. Old pallets are useful for a wide range of projects, including these trays. Several boards are placed side by side to create the surface of the tray, and two additional boards are placed under the ends to act as braces. Add handles and you'll be able to easily carry your tray from your kitchen to your patio or garden.