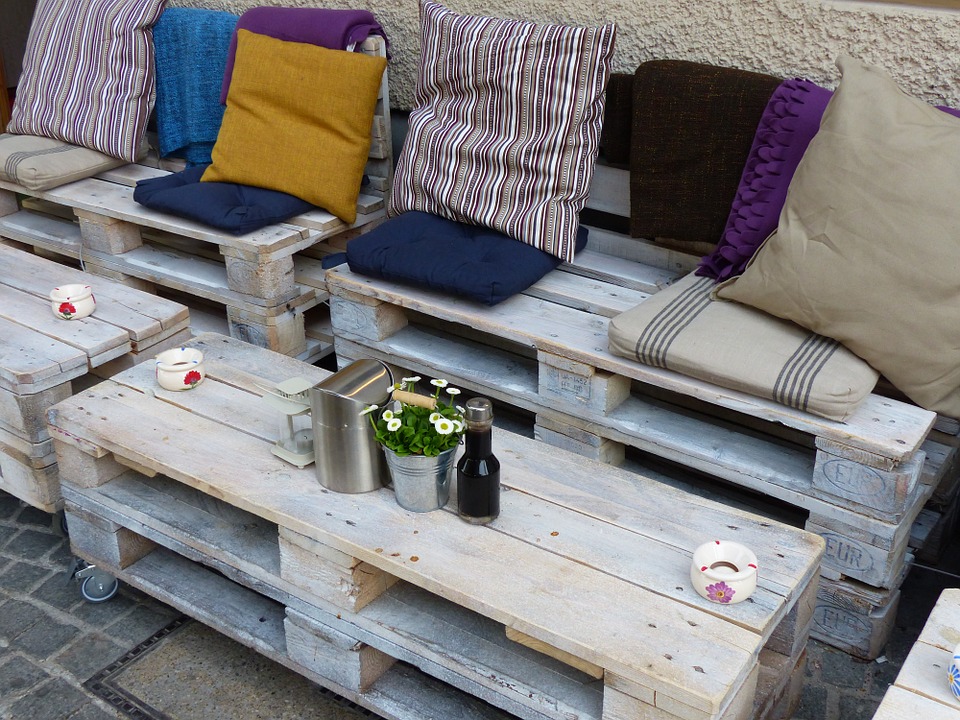 I think that your deck or patio should be an extension of your indoor space that feels just as warm and welcoming as your living room. One way to do this is to give your outdoor furniture just as much thought as what's in the rest of your home. Sure, you could choose traditional options like plastic, wood, and wrought iron tables and chairs, but there are also plenty of other ideas out there for patio furniture that expresses your personality and design sensibilities.
Pallet Furniture
Why spend a lot of money on patio furniture when you have the resources to make your own for free? Recycling or repurposing wood pallets has become increasingly popular lately, and for good reason. Not only are pallets strong and durable, but building with them helps to keep them out of landfills. Pallets are also highly versatile. They can be used to construct all types of outdoor furniture, including couches, chairs, and tables. If you don't have your own pallets, ask local businesses if they have any they can spare.
Hanging Rattan Chair
A hanging rattan chair can be a cozy addition to your outdoor space. With their boho-chic style and contemporary design, they are also a trendy choice. If you choose a hanging rattan chair for your patio or deck, be sure that you have a sturdy place to hang it. The ceiling should be able to support the weight of the chair and the person sitting in it. Cushions and pillows can be added for a touch of color and comfort.
Concrete Built-Ins
Concrete is a highly durable material for outdoor furniture and complements wood furnishings well. When made into built-in seating, concrete furniture can act as a statement piece for any space. Concrete built-ins work great to define the borders of your deck or patio. Using concrete, you can create a corner bench on your deck or a seating area in your garden. Don't forget to add some comfy cushions!
Canopies
Canopies provide protection from the sun while also giving your deck or patio visual interest. You can find outdoor canopies in a wide range of styles and designs. Pop-up canopies are designed to provide a bug-free outdoor experience for picnics and other activities. Gazebo-style canopies often include curtains and accent valances to create a charming outdoor retreat.
Daybed
Skip a hammock in favor of a luxurious daybed. Daybeds provide a soft cushion that supports the body while lounging or napping. They are often constructed of a UV-protected material to ensure that the daybed keeps its color and strength after long periods of sun exposure. You can also find daybeds with canopies to keep the sun off your face as you relax.
Outdoor Sectional
Bring all of the comforts of home to your patio or deck with an outdoor sectional. Sectionals are the perfect seating option for large families or adults who like to entertain. Opt for a build-your-own-sectional kit to create a layout that works well for your backyard.