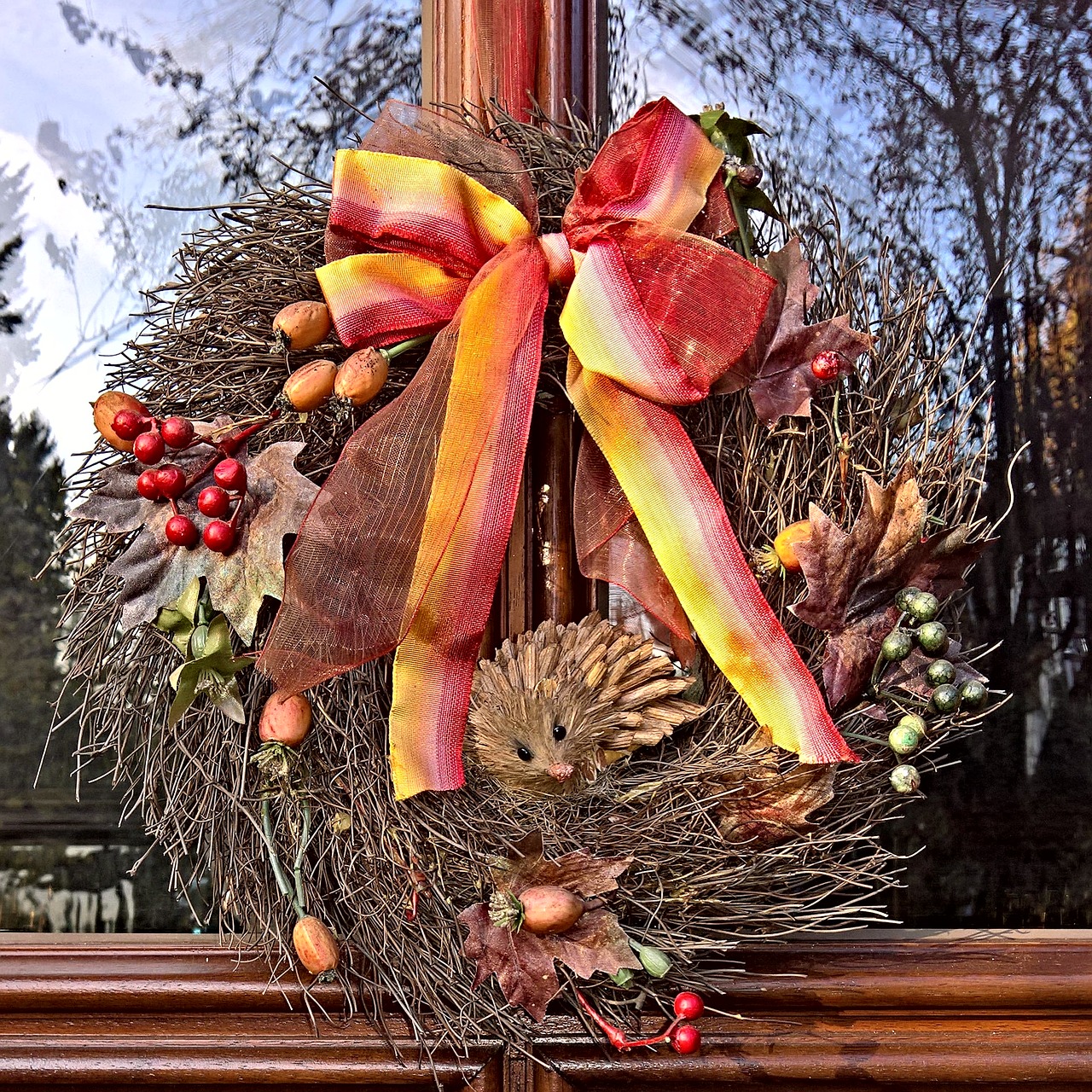 You might think of Christmas when you think of a wreath, but the truth is that wreaths can make great seasonal decorations all year long. You don't have to spend a ton of money on them, either: Creating your own wreaths from simple and inexpensive materials is a fun and affordable way to switch up your home's décor from month to month. Check out these ideas I found for every month of the year.
January is the perfect month to adopt a winter theme in your home, and this white grapevine wreath makes the perfect centerpiece. Decorative elements like pom-poms, greenery, bottle brush trees, and pine cones are attached to a grapevine or twig wreath to portray a quaint snowy village.
Finding cute Valentine's Day décor is not always easy, but this heart burlap wreath hits the mark. For this project, long strips of burlap are weaved onto a plastic heart frame and secured with a piece of wire. You can then create an arrow out of twigs to place in the center of the heart.
Welcome spring by making a floral wreath. The frame of the wreath is an embroidery hoop, and moss, faux flowers, and ribbon are used to decorate it. There are no right or wrong choices when it comes to choosing flower colors. If displaying your wreath outdoors, consider matching it to your patio umbrella or other outdoor furniture to create a cohesive look.
Butterflies are the ultimate symbol of spring and new beginnings. This DIY butterfly wreath features ivy chain garland wrapped around a grapevine wreath and secured with green cloth-covered wire. Craft butterflies complete the wreath and add pops of vibrant color.
This simple $7 greenery wreath proves you don't have to spend a bundle to make beautiful décor for your home. This project uses just greenery, grapevine, and some floral wire. Bending the grapevine into a circle creates the wreath form, and greenery is tucked into the grapevine, overlapping slightly.
This simple floral wreath can be made in less than 10 minutes and for under $10. Just pick up some faux roses from your local dollar store and use hot glue to attach them to a piece of foam cut into a wreath form. It's as easy as that.
Show your patriotism by displaying a Fourth of July wreath. This project involves wrapping red and white stripped twill ribbon around a straw wreath form. Blue star-covered burlap ribbon and mini American flags are used to finish the wreath.
Create a nautical wreath to remind you of fun memories at the beach. Use a grapevine wreath form as your base, and decorate it with all things nautical, such as seashells, fishing net, and sisal rope. Use a burlap ribbon to hang your creation.
September means the start of fall. Decorate with a beautiful wreath consisting of faux hydrangeas arranged on a grapevine wreath. Choose warm fall colors for your wreath, such as brown, burnt orange, and creamy white, or go with blue for a more natural look that mirrors the vivid blue sky.
This spooky wreath design screams Halloween. While it may seem complicated to make, all you need is three basic supplies. Spread a white spider web over a white berry wreath and add black plastic spiders. The white berries look like spider egg sacs, which add to the creep factor.
Remind yourself of all of the things you have to be thankful for this November. This Thanksgiving wreath consists of patterned paper leaves folded in half and glued to a wreath form. Before you fold them, write inside something that you're thankful for. Repeat with the other leaves on the wreath to turn your gratitude into a beautiful decoration.
After you're finished wrapping up gifts, use leftover paper scraps to create a colorful holiday wreath. The sturdier the wrapping paper, the better. You'll also need a foam wreath form, hot glue, some tape, and some ribbon for hanging.