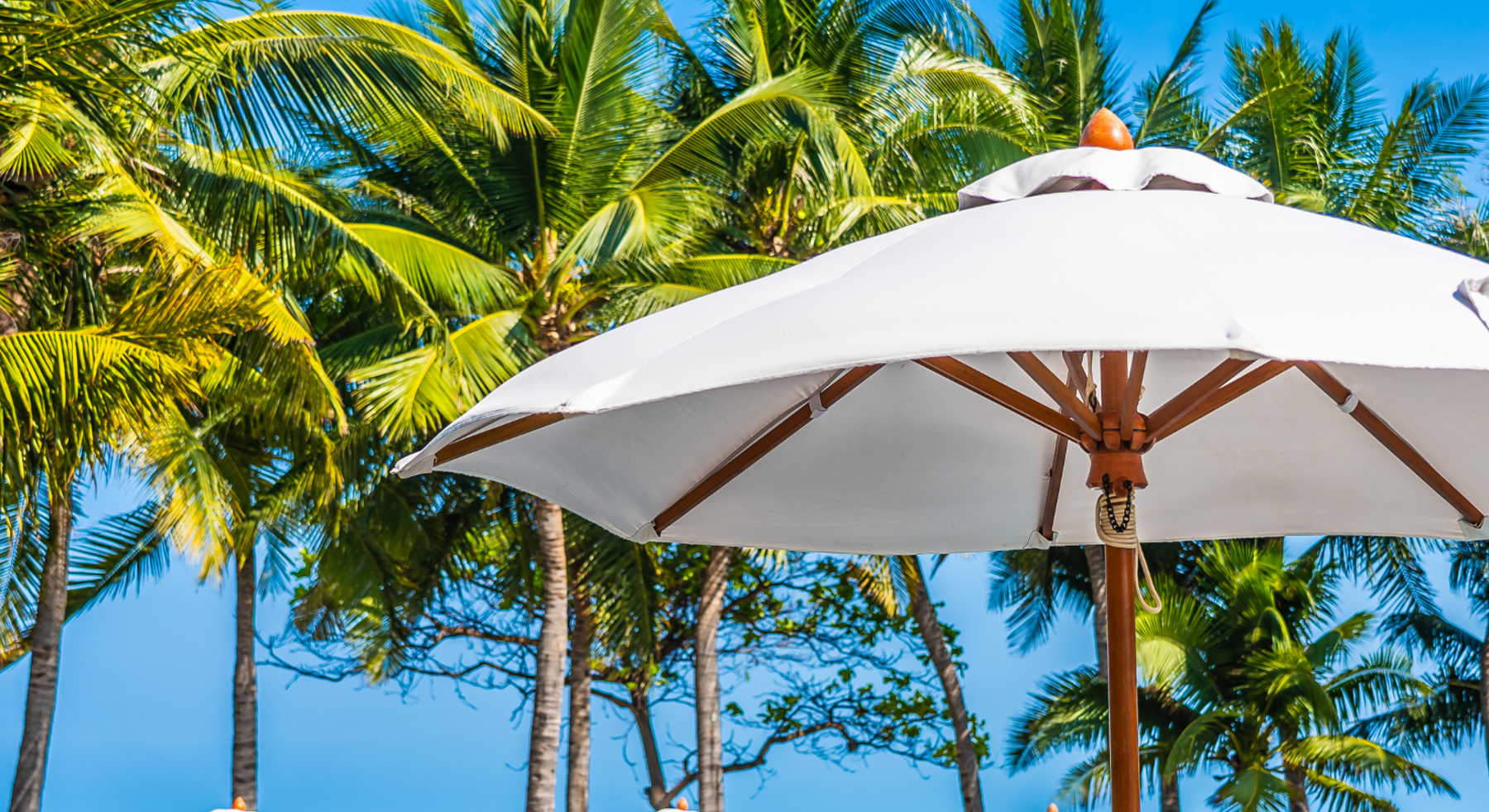 Image Slider 2 - copy - copy
A Wide Variety of Products for Businesses and Homeowners
Image Slider 2 - copy - copy - copy
Patio Umbrellas Delivered Straight to Your Door at Wholesale Prices
Market and Patio Umbrellas Buyers Guide
How to Know What Size Umbrella to Buy?
Evaluate the Space You Want to Shade
The first step in determining the size umbrella you would need is to evaluate the space you're trying to shade. There are many considerations to factor in. Is the umbrella to provide shade or for aesthetic purposes? In most cases, both are desired. Are you using it with a table? Are you trying to shade lounge chairs? What are you trying to shade? Is there a certain time of day you are most likely to use the umbrella(s)? This is important because the sun is not always directly overhead. Morning sun is different than mid-day sun and afternoon sun, so it's helpful to know what time of day you are likely to use the space. Obstructions like tables, chairs, walls and overhangs can cause a problem when operating the umbrella. Measure the space that needs to be shaded. In addition, it's important to understand how dealers represent the size of the umbrella they are offering.
Understanding Size
Round Umbrellas
Typically, on a round umbrella there are either 6 or 8 ribs (spokes, arms, slats…the support system for the canvas). The dealer or manufacturer will measure one of the ribs and then double that measurement to determine the approximate size of the umbrella. For example, if one of your ribs measures 4.5 feet in length, that umbrella is most commonly referred to as an 9 foot umbrella.g.
Understanding Size
Rectangular Umbrellas
When dealing with a square or rectangle umbrella the size is measured when the umbrella is in the open position. Rib length is not used to determine the size. You simply measure how large a square or rectangle you have when the umbrella is open. Example, 6' by 6' or 6' by 10', etc.
Walk Under Height
Other things to consider would be the walk under height as well overall height. Some dealers offer detailed dimension drawings to assist the buyer in making the most informed decisions.
Pole Diameter
The other sizing issue to consider is the pole diameter to make sure it will fit in the patio table or umbrella base stand.
Sizing With a Table
When you are using an umbrella with a table, we recommend that the umbrella be twice as big or larger as the table in order to provide an adequate amount of shade.  For example, if a table is 4.5 feet round, we would recommend at least a 9 foot umbrella. It all depends on how much shade you are wanting to provide. The biggest problem is people buy umbrellas that are too small for their application.
6.5' Round is Smaller than 5' Square: it takes more canvas to build a 5' square umbrella than it does a 6.5' round umbrella.
Types of Canvas used for Patio Umbrellas
Predominantly acrylic fabric is used to make canvas for umbrellas. They will vary in price according to their expected lifespan.
Here are some factors to consider:

Fabric Quality
Often, the less expensive canvas will fade or lose its color much faster than the more expensive canvas. Some people choose a less expensive canvas to be able to change colors of canvas year after year, budget limits, and amount of use expected.
Location
People who live in arid or tropical climates or have longer summer seasons should expect greater wear on their umbrella and should thus invest more into umbrella quality.
Choosing between affordable, mid-range, and high end options
Choosing between affordable, mid-range, and high end options
Affordable
The most commonly used canvas for umbrellas under $150 is polyester. Typically polyester canvas doesn't have any warranty against fading. When considering a color, Beige or Natural tend to be popular as they do not show fading that the brighter colors show.
Mid-Range
You'll find some dealers with a mid range priced canvas that will have a 1 year warranty against fading.
High End
The best canvas is Sunbrella. Sunbrella is manufactured in the U.S.A. by Glen Raven Mills in North Carolina. Sunbrella canvas has a 5 to 10 year warranty depending on the type of canvas used. Most buyers have experienced longer life than the stated warranty. The colors stay vibrant unlike the lower priced options.
Option
Price Range
Considerations
Affordable
$30 – $80

Primarily polyester
No warranty for fading
Limited color options

Mid Range
$60 – $100

Olefin, Suncrylic
~1 year warranty against fading
Limited color options

High End
$130 – $400

Sunbrella
5-10 year warranty for fading
100+ color options
things to consider
Choosing a Frame
Choosing a frame really boils to personal preference. People might choose wood because it looks richer (to them), or it might match their décor. However, there are several considerations you should keep in mind:.
Frame material
Some people believe wood has more character, and it is also important to note wood is heavier than aluminum. Aluminum is easier to clean and maintain, it also might match a person's décor. Another important note is you can buy wood or aluminum in all different price ranges.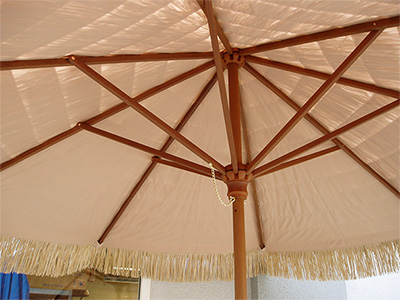 Open / Close Mechanism
When considering a frame you should determine how you would like it to open and close. Typically wood umbrellas have a rope and pulley system or they are simple "push it up, put the pin in" models. With aluminum, crank handles are more common, but you can also find the simple models.
Straight Vs. Tilting
Tilting umbrellas can be beneficial to help block early morning or late afternoon sun. Depending on your environment it can increase the shading potential of the umbrella. Typically you will find aluminum umbrellas will offer a tilt option and it is more rare on the wood umbrellas. Tilt features on umbrellas are commonly found on smaller umbrellas because tilting a large umbrella can require the need for extra weight to the base stand. Tilting a large umbrella can be dangerous, as the wind can create a lot of stress on the frame.
Offset/Cantilever
Offset / Cantilever umbrellas, often referred to as side post umbrellas, have become a popular option for many backyards. Because the way they hang to the side, added weight is needed to secure the umbrella. Some people might choose to use an in ground sleeve for a cleaner installation. These types of umbrellas have a wide range of quality and price.
How to Secure Your Umbrella
When choosing an umbrella, it is always the customer's responsibility to determine how to secure the umbrella so it won't blow over or break. There are many different options for umbrella base stands. Material, weight, size, can vary from dealer to dealer. Some base stands might work better for a through the table installation than a free standing installation or vice versa. Some stands are made specifically to be used in tables and some are made to be used as free standing. Bases can have varying size base tubes in order to provide additional support for free standing umbrellas, or have shorter base tubes to be able to fit under any obstructions in a table. Even though an umbrella is used in a table, different weight amounts will be required depending on size and weight of the umbrella. A base is still recommended to provide proper additional support in securing the umbrella.